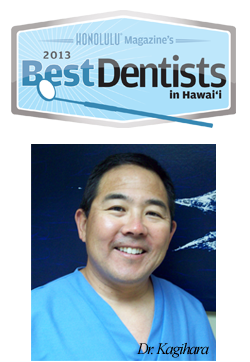 Meet Dr. Kagihara and Team
Dr. Kagihara received his D.D.S. degree from the University of Missouri at Kansas City School of Dentistry in 1991.  The Punahou School graduate also received a B. A. in Biology from the University of the Pacific.
Dr. Kagihara has taken over the dental practice of his late grandfather Dr. Motoi Hirata, who practiced dentistry in Honolulu for more than 60 years. 
Dr. Kagihara is a member in good standing of the American Dental Association, the Academy of General Dentistry, the Hawaii Dental Association and the Honolulu County Dental Society. He is also a member of the Hawaii Dental Forum (the Hawaii chapter of the Seattle Study Club), and a graduate and mentor of the Kois Center, a didactic and clinical program with the latest advances in esthetics, implant and restorative dentistry. Dr. Kagihara continues to attend many continuing education courses throughout the year.
In his free time, Dr. Jeff enjoys fishing and cheering on the Kansas City Chiefs!